Fantastic Beasts and Where to Find Them (film)
Talk

8
Warning!

At least some content in this article is derived from information featured in Fantastic Beasts and Where to Find Them (film). As such, spoilers will be present within the article.
"Well, I think we should put it back in order for them, don't you?"

This article or section needs to be cleaned up to conform to a higher standard of quality.
See How to Edit for help, or this article's talk page.
Fantastic Beasts and Where to Find Them is the first of an upcoming trilogy of films based on Fantastic Beasts and Where to Find Them, one of the companion books to J.K. Rowling's Harry Potter series.[5] Rowling will make her screen writing debut with this film.[6] David Heyman, who produced the Harry Potter films, will be returning as producer for Fantastic Beasts.[2]
J.K. Rowling has said that the film will start in New York, around 1920, seventy years before the Harry Potter series, and will feature Newton Scamander as a main character. It is unclear whether the rest of the film will be set in New York.[5] Fantastic Beasts and Where to Find Them tells us that Scamander had been travelling the world in research of magical creatures since 1918, culminating with the publication of his masterpiece in 1927.
Warner Bros approached Rowling about using the book for a film, from which she pitched "an idea that [she] couldn't dislodge".[5] Upon returning to Harry Potter for the first time since 2007, Rowling commented: "I always said that I would only revisit the wizarding world if I had an idea that I was really excited about and this is it."[5] She stated that the idea of seeing Scamander "realised by another author was difficult," hence her decision to be the film's screenwriter. As of the film's announcement, there is no set date for when it might go into production.[6]
On 29 March, 2014, The New York Times reported the adaptation of Fantastic Beasts and Where to Find Them will be a trilogy.[7] David Yates confirmed that Rowling had written the screenplay for the second film and had gotten ideas for the third.[8]
On 13 May, 2014, it was announced the first film will be released on 18 November, 2016.[3]
On 6 October, 2014, J. K. Rowling posted the cryptic message "Cry, foe! Run amok! Fa awry! My wand won't tolerate this nonsense." on her official Twitter account.[9] She confirmed the following day that this message was a riddle, and the solution, while not part of the script, was the first sentence of a synopsis of Newt Scamander's story.[10] The anagram was solved later that day, with Rowling confirming the solution of "Newt Scamander only meant to stay in New York for a few hours."[11]
Synopsis
The film's first official synopsis was released on 11 December, 2015:[12]
| | | |
| --- | --- | --- |
| " | "Fantastic Beasts and Where to Find Them" opens in 1926 as Newt Scamander has just completed a global excursion to find and document an extraordinary array of magical creatures. Arriving in New York for a brief stopover, he might have come and gone without incident… were it not for a No-Maj (American for Muggle) named Jacob, a misplaced magical case, and the escape of some of Newt's fantastic beasts, which could spell trouble for both the wizarding and No-Maj worlds. | " |
The plot revolves around Newt Scamander, who was making a brief stop in New York in 1926, shortly after completing his travels around the world to research for his Magizoology book, Fantastic Beasts and Where to Find Them. What was meant to be a short interlude is prolonged when a No-Maj called Jacob Kowalski inadvertently disrupts Newt's magically-expanded suitcase, releasing a number of dangerous magical creatures into the city and threatening to worsen even further the state of magical and non-magical relations in the United States (which were already tense due to the presence of a fanatical extremist group, the New Salem Philanthropic Society, advocating for a "Second Salem" and the erradication of wizardkind).
Characters
The following is a list of characters confirmed to appear in the first film of the trilogy, most of whom (as of now, the only known exceptions are Newt Scamander and Porpentina Goldstein, who are mentioned on the Fantastic Beasts and Where to Find Them book) are completely original to this work and never mentioned anywhere else in canon before.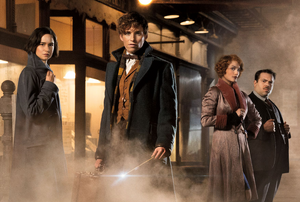 Beasts
The following is a list of beasts confirmed to appear in the first film of the trilogy.
Videos
Gallery
Behind the scenes
Notes and references