'Fantastic Beasts: The Crimes of Grindelwald' -- Official Comic-Con Trailer
Fantastic Beasts: The Crimes of Grindelwald is the second instalment of the series of films based on Fantastic Beasts and Where to Find Them, one of the companion books to J. K. Rowling's Harry Potter series. Fantastic Beasts: The Crimes of Grindelwald is a direct sequel to Fantastic Beasts and Where to Find Them, and is the tenth film set in the wizarding world. The film is directed by David Yates, with a screenplay by J. K. Rowling. Returning stars Eddie Redmayne, Katherine Waterston, Dan Fogler, Alison Sudol, Ezra Miller, Carmen Ejogo, Kevin Guthrie, and Johnny Depp, with Zoë Kravitz, Callum Turner, Claudia Kim, William Nadylam, and Jude Law joining the cast.
The plot follows Newton Scamander and Albus Dumbledore as they attempt to take down Gellert Grindelwald, while facing new threats in a more divided wizarding world. The story will take place in New York, London, and Paris starting around 19 March[2], 1927.[3] Filming began on 3 July 2017. It will be released on 16 November 2018, the same day the screenplay will be published.[4]
Synopsis
Grindelwald has made a dramatic escape from MACUSA custody. The villainous Grindelwald has been busy gathering more followers to his cause – elevating wizards above all non-magical beings. The only one who might be able to stop him is the wizard he once called his dearest friend, Albus Dumbledore. But Dumbledore will need help from the wizard who had thwarted Grindelwald once before, his former student Newt Scamander. Newt will again be joined by Queenie and Tina Goldstein in the next film, as well as his No-Maj friend, Jacob Kowalski. However, the mission against Grindelwald will 'test their loyalties' as the wizarding world becomes more divided and dangerous.[5]
Cast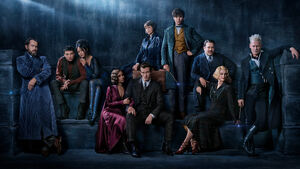 Production
Development
Fantastic Beasts: The Crimes of Grindelwald was announced in October 2014 by Warner Bros. At the time, the film was unnamed and the second part of planned trilogy of films based on Fantastic Beasts and Where to Find Them. It was scheduled for release on 16 November, 2018, two years after the release of the first film, Fantastic Beasts and Where to Find Them.
In July 2016, David Yates, director of Fantastic Beasts and Where to Find Them, revealed that J. K. Rowling had written the screenplay for the second film. In an interview with Entertainment Weekly, Yates said "we've seen the script for Part 2, for the second movie, which takes the story in a whole new direction – as you should, you don't want to repeat yourself. The second movie introduces new characters as she builds this part of the Harry Potter universe further. It's a very interesting development from where we start out. The work is pouring out of her."
In October 2016, the proposed trilogy of Fantastic Beasts films was expanded to five films, including the news that Eddie Redmayne would return in all of the films as lead character Newton Scamander. Yates was also contracted to direct the sequel, with Rowling, David Heyman, Steve Kloves and Lionel Wigram serving as producers. Yates later revealed that he was onboard to direct all the films in the Fantastic Beasts series.
Pre-production
After cameoing as Leta Lestrange in the first film, Zoë Kravitz will return for the sequel with a larger role. It was revealed on 1 November, 2016, that Johnny Depp had been cast in the film in an unspecified role that was later revealed to be Gellert Grindelwald. Depp's casting in the film caused some fans to criticise his involvement due to previous allegations of domestic violence. J. K. Rowling commented on the issue, stating that "the filmmakers and I are not only comfortable sticking with our original casting, but genuinely happy to have Johnny playing a major character in the movies." She did not consider recasting the role since Depp and with his ex-wife, actress Amber Heard, hoped that the settlement of their dispute would enable both of them to continue working and move on from the controversy.
David Yates revealed that Albus Dumbledore would be a character in the film. However, Michael Gambon would not be returning to the role, and a younger actor would play the character instead. In the same interview, he stated the film would be set in the United Kingdom and Paris. Several actors were considered from the role of the younger Dumbledore, including Christian Bale, Benedict Cumberbatch, and Mark Strong. Jarred Harris, son of Richard Harris who played Dumbledore in the first two Harry Potter films was also in the running. Eventually, Jude Law was announced to be playing Dumbledore in April 2017.
Ezra Miller was reported as preparing to film for the sequel, confirming his return as Credence Barebone. Callum Turner was added to the cast in the role as Newton Scamander's older brother, Theseus Scamander. At the start of principal photography on 3 July, 2017, additional cast members were announced, including Claudia Kim, William Nadylam, Ingvar Eggert Sigurðsson, Ólafur Darri Ólafsson, and Kevin Guthrie. A plot synopsis was also released.
Filming
Filming began on 3 July 2017 at Leavesden Studios. On 22 September 2017, David Sakurai was cast to play Krall, one of the ambitious and sulky henchman of Grindelwald. Jude Law was reported to have finished his participation in the film by September 2017. On 5 October 2017, several other additions to the cast were announced, including Brontis Jodorowsky as Nicolas Flamel and Jessica Williams in an undisclosed role. Filming wrapped on 20 December 2017.
Music
In an interview with Forbes in November 2016, James Newton Howard confirmed he was returning to score the film.
Release
Fantastic Beasts: The Crimes of Grindelwald is scheduled to be released by Warner Bros. on 16 November 2018. The film will be released in IMAX, IMAX 3D and 2D formats.
Marketing
The screenplay for Fantastic Beasts: The Crimes of Grindelwald will be released in book form on the same day the film is released, 16 November 2018.
Behind the scenes
Videos
Gallery
Notes and references