Fantastic Beasts: The Crimes of Grindelwald - Official Teaser Trailer
Fantastic Beasts: The Crimes of Grindelwald is the second instalment of the series of films based on Fantastic Beasts and Where to Find Them, one of the companion books to J. K. Rowling's Harry Potter series.
The story will take place in New York, London, and Paris starting around 19 March[2], 1927.[3] Filming began on 3 July 2017. It will be released on 16 November 2018, the same day the screenplay will be published.[4]
Synopsis
Grindelwald has made a dramatic escape from MACUSA custody. The villainous Grindelwald has been busy gathering more followers to his cause – elevating wizards above all non-magical beings. The only one who might be able to stop him is the wizard he once called his dearest friend, Albus Dumbledore. But Dumbledore will need help from the wizard who had thwarted Grindelwald once before, his former student Newt Scamander. Newt will again be joined by Queenie and Tina Goldstein in the next film, as well as his No-Maj friend, Jacob Kowalski. However, the mission against Grindelwald will 'test their loyalties' as the wizarding world becomes more divided and dangerous.[5]
Cast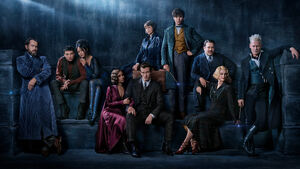 Behind the scenes
Gallery
Videos
Notes and references