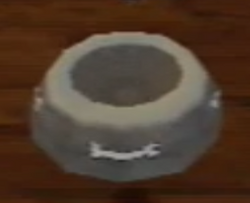 "Right, Harry. We've gotta let these slugs run their course. I'll give yeh Fang's bowl ter catch 'em in."
Fang's bowl was the bowl with which Rubeus Hagrid fed Fang, his pet boarhound. It was grey in colour, with little bones painted on the outer edge.[1]
In 1992, after Ronald Weasley inadvertently cast a Slug-Vomiting Charm on himself, Rubeus Hagrid handed Harry Potter Fang's bowl, so that he could catch the slugs and drop them into a barrel.[1]
Behind the scenes
Appearances
Notes and references