"Well, I think we should put it back in order for them, don't you?"

This article or section needs to be cleaned up to conform to a higher standard of quality.
See How to Edit for help, or this article's talk page.
Exterior Walkway[1] is a wide exterior parapet at Hogwarts School of Witchcraft and Wizardry that connects the Viaduct Courtyard to The Quad and from before the 1990s and again in 1997 also the Viaduct Entrance as the Viaduct only connected to the said Entrance from 1991 to early 1997. To its right, there is a large and deep gorge.
Students were often found in it, including Yuvraj Suri and Agatha Thrussington.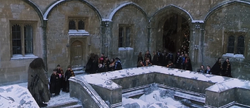 Appearances
Notes and references
Ad blocker interference detected!
Wikia is a free-to-use site that makes money from advertising. We have a modified experience for viewers using ad blockers

Wikia is not accessible if you've made further modifications. Remove the custom ad blocker rule(s) and the page will load as expected.