Electric Shock Shake
Object information
Manufacturer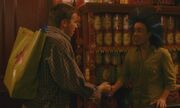 Electric Shock Shake is one of the practical joke items sold at Fred and George Weasley's shop in Diagon Alley, Weasleys' Wizard Wheezes.[1] It is possibly one of the Explosive Enterprises.[2]
The tagline on the box was "crowd-pleasing concoctions."[3] A warning on the box also advised that the product was not safe for use by pregnant witches.[3]
Appearances
Notes and references