Eeylops Premium Owl Treats
Talk

0
"I show not your face but your heart's desire."

This page "shows not" an image, but just a written article. Please help the Harry Potter Wiki by uploading and adding an image to this article and then removing this template.
"Eeylops Premium Owl Treats. The best thing for a happy, healthy owl."
—Advertisement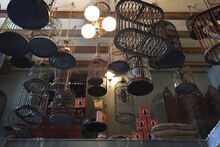 Eeylops Premium Owl Treats is a brand of Owl Treat sold at Eeylops Owl Emporium in Diagon Alley. Harry Potter fed these treats to his owl Hedwig.
Appearances
The Wizarding World of Harry Potter