Educational Decree Number Sixty-Seven
Talk

0
This article is non-canon.
This article covers a subject that has been deemed non-canon by either the author or the Harry Potter licensees, and thus should not be taken as a part of the "real" Harry Potter universe.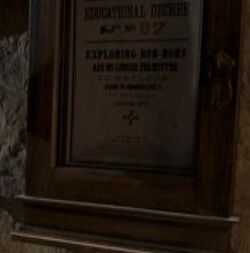 "Exploding bon-bons are no longer permitted to explode. Hand in immediately to Ministry disposal unit."
—The Decree
The Educational Decree Number Sixty-Seven was one of the Educational Decrees created by Dolores Umbridge, then-Hogwarts High Inquisitor. This Educational Decree forbade Exploding bonbons to explode [1] and forced students to hand theirs to the proper Ministry of Magic disposal unit.[2]
Behind the scenes
Appearances
Notes and references
↑ See this image to read the last lines of the Decree.
↑

Althrough not identified, it is most likely seen on the wall along with the others.