This article is non-canon.
This article covers a subject that has been deemed non-canon by either the author or the Harry Potter licensees, and thus should not be taken as a part of the "real" Harry Potter universe.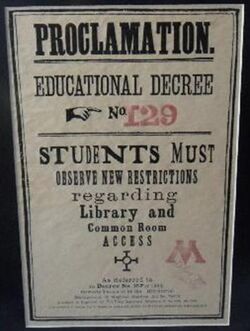 "Students must observe new restrictions regarding Library and Common Room access."
—The Decree
The Educational Decree Number One-Hundred and Twenty-Nine was one of the Educational Decrees created in 1996 by Dolores Umbridge, then-Headmistress of Hogwarts School of Witchcraft and Wizardry. This Educational Decree imposed restrictions on Library and Common Room access.[1]
Behind the scenes
Appearances
Notes and references