This article is non-canon.
This article covers a subject that has been deemed non-canon by either the author or the Harry Potter licensees, and thus should not be taken as a part of the "real" Harry Potter universe.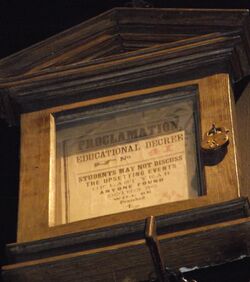 "Students may not discuss the upsetting events of last year. Anyone found doing so will be punished."
—The Decree.
The Educational Decree Number Forty-One was one of the Educational Decree created by Dolores Umbridge, then-Hogwarts High Inquisitor. This Educational Decree forbade the students of discussing the "upsetting events" of the previous school year[1]
Behind the scenes
Appearances
Notes and references