"Are you a wizard or not?"

The title of this article is conjectural. Although it is based on canonical information, the actual name is conjecture and may be supplanted at any time by additional information released from canonical sources. If this occurs, please move this page to the appropriate title.
The Durmstrang ship was a magical ship used by the Durmstrang Institute to reach Hogwarts School of Witchcraft and Wizardry for the 1994 Triwizard Tournament. The ship can travel underwater, though, in practice, the students steered while Headmaster Igor Karkaroff stayed in his cabin, and probably capable of invoking a magical means of traveling from one large body of water to another. The ship has a strange, skeletal look. During their stay at Hogwarts, the ship was anchored in the Black Lake in front of Hogwarts Castle. The Durmstrang students and Karkaroff slept in the ship at night. At the end of the Tournament, the Durmstrang students boarded their ship and sailed back to Durmstrang. In 1994, Viktor Krum was seen diving off the ship and into the lake by Harry Potter, Hermione Granger and Ronald Weasley.
Behind the scenes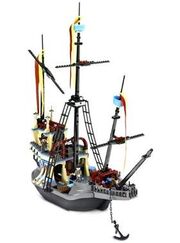 Appearances
Notes and references