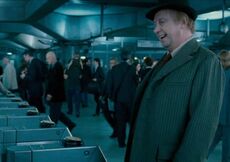 Dunglicker is an insulting term used to describe "Muggle-lovers", such as Arthur Weasley, Head of the Misuse of Muggle Artefacts Office of the Ministry of Magic and member of the Order of the Phoenix. It refers to such individuals willingly associating with Muggles, other blood traitors and Muggle-borns, whom elitist Pure-bloods consider to be inferior and dirty.
See Also
Appearances
Ad blocker interference detected!
Wikia is a free-to-use site that makes money from advertising. We have a modified experience for viewers using ad blockers

Wikia is not accessible if you've made further modifications. Remove the custom ad blocker rule(s) and the page will load as expected.