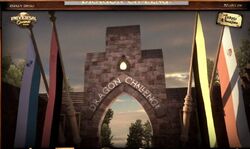 Dragon Challenge is one of the three main ride attractions at The Wizarding World of Harry Potter, part of Universal's Islands of Adventure theme park in Orlando, Florida.
Dragon Challenge is a pair of intertwined inverted roller coasters, both which feature two completely separate track layouts. The inverted rollercoaster trains are designed to resemble dragons, and the trains are dispatched in a staggered manner in order to simulate a "chase" between the two trains, much like Harry Potter being chased by The Hungarian Horntail in the First task of the Triwizard Tournament in the film adaptation of Harry Potter and the Goblet of Fire.[1]
The red coloured track on the attraction is called the Chinese Fireball, while the blue coloured track is called the Hungarian Horntail.
On July 24th, 2017, it was announced that the attraction would close and be replaced with a new and better themed Harry Potter roller coaster attraction, with the final day of Dragon Challenge being set for September 5th.[2]
Basic facts
This attraction originally opened on May 28th, 1999 as Duelling Dragons, in the Lost Continent section of Universal's Islands of Adventure. After the announcement of The Wizarding World of Harry Potter, in May of 2007, the attraction temporarily closed in 2009 to be slightly rethemed and incorporated into the new area. The attraction officially reopened on June 28th, 2010 as Dragon Challenge.
After entering the queue, located inside a castle, participants will walk through the champion's tent and will see some artefacts such as the Goblet of Fire.[1]
The queue has banners for Viktor Krum, Fleur Delacour, Cedric Diggory and Harry Potter. There are only three Golden eggs on display as opposed to four.
The riders have the option to ride the red dragon (the Chinese Fireball) or the blue/green dragon (the Hungarian Horntail). However, the Hungarian Horntail is actually black, having been modified from the original conception.
Originally, both rollercoaster trains on this attraction where dispatched synonymously to simulate a "duel", However the trains no longer duel after an accident where a rider was severely injured by flying debris.[3]
See also
Notes and references