Donaghan Tremlett (b. 1972) was a Muggle-born wizard, who played bass for the popular wizarding band The Weird Sisters.
Biography
Early life
Donaghan Tremlett was born in 1972 to Muggle parents.[2] He began attending Hogwarts School of Witchcraft and Wizardry in 1983 or 1984.[3]
Later life
Donaghan played bass for the popular wizarding band The Weird Sisters. On Christmas Day in 1994, the band attended the Yule Ball at Hogwarts,[4] where they played classic hits like "Magic Works" and "This Is The Night," as well as a new song titled "Do The Hippogriff."[5]
Donaghan married a woman in September 1995. The wedding was mentioned in the Daily Prophet.[6]
In June 1997, Donaghan attended the funeral of Albus Dumbledore, and was one of several familiar people Harry Potter noticed among the crowd.[7]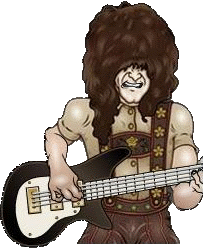 After the Ministry of Magic was taken over by Lord Voldemort in September 1997, Donaghan, as a Muggle-born, presumably faced charges before the Muggle-Born Registration Commission. He may have been sent to Azkaban, or else gone into hiding, like many others of his heritage.
Physical appearance
Donaghan was described as "hairy"[7] and, like all members of the Weird Sisters, wore "artfully torn" black robes when onstage.[4]
Behind the scenes
Appearances
Notes and references
Ad blocker interference detected!
Wikia is a free-to-use site that makes money from advertising. We have a modified experience for viewers using ad blockers

Wikia is not accessible if you've made further modifications. Remove the custom ad blocker rule(s) and the page will load as expected.