Divine Magic was a Muggle women's perfume made by Lima Carneiro.[1] It was sold internationally and was manufactured from at least 1926.[1][2]
A large neon billboard advertising this perfume appeared on the roof of the Sovereign Theatre in Times Square in New York in 1926.[2] It featured the slogan "The Scent of the Season."[2]
In 1996, Divine Magic was promoted in the United Kingdom with a billboard campaign that featured the slogan "Tonight, Make a Little Magic With Your Man."[1][3] Albus Dumbledore was admiring this billboard when Harry Potter approached him at the subway.[1]
Behind the scenes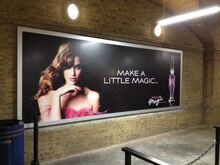 Appearances
Notes and references
Ad blocker interference detected!
Wikia is a free-to-use site that makes money from advertising. We have a modified experience for viewers using ad blockers

Wikia is not accessible if you've made further modifications. Remove the custom ad blocker rule(s) and the page will load as expected.