Dervish and Banges (The Wizarding World of Harry Potter)
Talk

0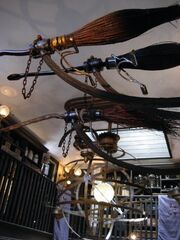 In The Wizarding World of Harry Potter is a recreation of the shop Dervish and Banges in Hogsmeade. Visitors can buy various things in the shop that were shown in the Harry Potter films.
In a conference call on January 28, 2010 with Thierry Coup, Vice President of Creative Development for Universal Creative, it was revealed that there will be wand accessories that can also be bought.[1]
The Monster Book of Monsters is on display in this store.
Towards the exit, there is a sign that shows the procedures for closing up the shop, including casting a protective charm over the shop after locking the doors.
Products
Notes and references