December is the twelfth and last month of the year. It's one of the months of the year with thirty-one days.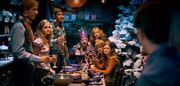 December 1995: Arthur Weasley returns home after being attacked by Nagini at the Ministry of Magic.
24–25 December (Christmas Night) 1997: Harry and Hermione visit Godric's Hollow and get attacked by Nagini impersonating Bathilda Bagshot.
1991 - Harry Potter receives his invisibility cloak as a present from Albus Dumbledore.