"Is this all real? Or has this been happening inside my head?"

The subject of this article is of a real-life person, place, group, company, product, or creative work that has been mentioned "in-universe" in a canon source. The Harry Potter Wiki is written from the perspective that all information presented in canon is true (e.g., Hogwarts really exists), and, as such, details contained in this article may differ from real world facts.
Death-Cap is a poisonous mushroom, widely distributed across Europe. It is (most likely) used in the making of the Death-Cap Draught.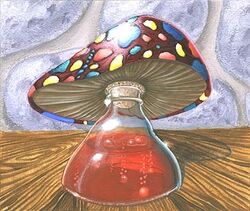 Behind the scenes
The deathcap mushroom (Amanita phalloides) is believed to be the cause of most mushroom-related poisonings worldwide, as it resembles edible mushrooms.[1]
Much more well-known to folklore and magical superstition is the Fly Agaric Mushroom (Amanita muscaria), a cousin of the deathcap, recognisable worldwide for its bright red cap with white spots.
Appearances
Notes and references