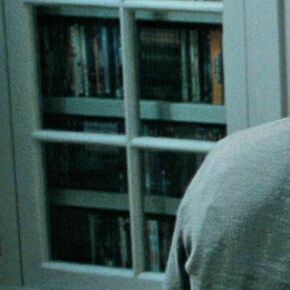 DVD (digital versatile disc or digital video disc) was a digital optical disc data storage format commercially introduced in 1996.[1] Although the same size as compact discs, DVDs had a higher storage capacity, and were thus used primarily for films and video games.[1]
The edition of the Muggle entertainment magazine Radio Times for London, Anglia, and the Midlands ran an exclusive DVD giveaway offer in a 1997.[2]
The Granger family had amassed a moderate collection of DVDs by mid-1997.[3]
Behind the scenes
The depiction of the Granger family owning three shelves of DVDs in Harry Potter and the Deathly Hallows: Part 1 is somewhat anachronistic, as the scene in which they appear is set in the summer of 1997, when the DVD format had been commercially available for less than a year. DVDs were also very expensive at the time, although Mr and Mrs Granger, as dentists, could presumably have afforded to be early adopters. They may have built up a collection so soon after the format's debut by importing foreign releases. DVDs may have also been released commercially earlier in the Harry Potter universe than in reality.
All eight Harry Potter films have been released on DVD, though some have also been released on other formats, such as VHS and Blu-ray Disc. The Harry Potter DVDs often have a large number of special features, such as deleted scenes, interviews with the actors and filmmakers, interactive games, and other features.
Harry Potter Interactive DVD Game: Hogwarts Challenge is a Harry Potter video game that was released in the DVD format.
Appearances
Notes and references