"There are plenty of eye-witness accounts. Just because you're so narrow-minded you need to have everything shoved under your nose before you–"

This article contains a list of appearances, but currently has few or no notes and references. Please help the Harry Potter Wiki by adding notes and/or references to bring this article to a higher standard of quality.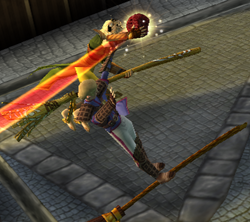 The D'Orazio Dive is a Quidditch tactic, used to steal the Quaffle from opposing Chasers. A Chaser flies just behind an opponent Chaser, then jumps off of their broom and high into the air, doing a double somersault, and then stealing the Quaffle from the opponent's hands. After that, the Chaser lands safely back on their broom.
Appearances