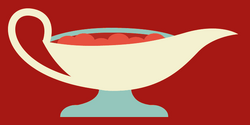 Cranberry sauce is a sauce made of out cranberries. It is traditionally served with Christmas dinner in United Kingdom, and with Thanksgiving dinner in Canada and the United States.[1]
This sauce was served in silver boats at the Christmas feast at Hogwarts School of Witchcraft and Wizardry in 1991.[2]
Appearances
Notes and references
↑ "Cranberry sauce" on Wikipedia
↑ Harry Potter and the Philosopher's Stone, Chapter 12
Ad blocker interference detected!
Wikia is a free-to-use site that makes money from advertising. We have a modified experience for viewers using ad blockers

Wikia is not accessible if you've made further modifications. Remove the custom ad blocker rule(s) and the page will load as expected.