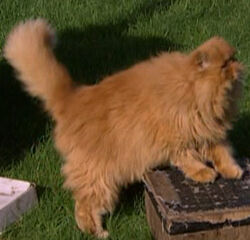 Crackerjack is a male Persian cat who played Crookshanks in Harry Potter and the Prisoner of Azkaban. In order to achieve his mangy appearance in the film, his trainers saved his shed fur, rolled it into balls, and clipped these onto him.[1]
Appearances
Notes and references
Ad blocker interference detected!
Wikia is a free-to-use site that makes money from advertising. We have a modified experience for viewers using ad blockers

Wikia is not accessible if you've made further modifications. Remove the custom ad blocker rule(s) and the page will load as expected.