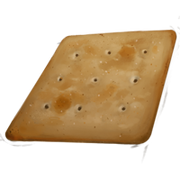 "Keep your teeth healthy with this sugar free snack."
—Description.
A cracker is a flat, thin and crispy piece of baked bread. Flavourings or seasonings may be added to the dough or sprinkled on top before baking or, alternatively, can be eaten bland to accompany other food items.
Harry Potter was apparently fond of eating crackers, as there was an uneaten cracker on the floor of his bedroom during the summer of 1994.[1]
Behind the scenes
Appearances
Notes and references