The Wooden Bridge[1] (also known as the Covered Bridge) was a feature of Hogwarts Castle. The bridge appeared derelict, and was constructed of wood beams which extend to the floor of the ravine it laid across. The roof of the Covered Bridge was sagging and appeared tarred. The bridge blended in with the natural environment surrounding it.
The Covered Bridge began at one end of the Clock Tower Courtyard, right at the base of the Clock Tower. At the end of the covered bridge there is a small stone gazebo with benches. Outside of it is the Sundial Garden.
Most of the bridge was destroyed during the Battle of Hogwarts by Neville, Seamus and Ginny under the orders of Minerva McGonagall. The bridge was destroyed using charges. It is unknown if the bridge was rebuilt or not after the battle concluded.
Behind the scenes
Appearances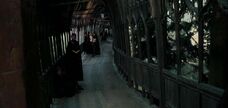 Notes and references
Ad blocker interference detected!
Wikia is a free-to-use site that makes money from advertising. We have a modified experience for viewers using ad blockers

Wikia is not accessible if you've made further modifications. Remove the custom ad blocker rule(s) and the page will load as expected.