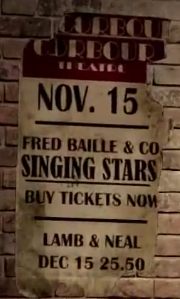 The Corbour Theatre was a theatre located in New York City.[1]
In 1926, the musical group Fred Baille & Co. appeared at the Corbour Theatre on 15 November, while Lamb & Neal performed there on 15 December.[1] Posters advertising both of these performances were placed around the port in New York.[1]
Appearances
Notes and references
Ad blocker interference detected!
Wikia is a free-to-use site that makes money from advertising. We have a modified experience for viewers using ad blockers

Wikia is not accessible if you've made further modifications. Remove the custom ad blocker rule(s) and the page will load as expected.