Conjuration is an advanced form and branch of Transfiguration, some of the most complex magic taught at Hogwarts School of Witchcraft and Wizardry. Conjurations are distinguished from the other branches of Transfiguration by their ability to transfigure the desired object from 'thin air'.
Conjuration is more than difficult than Transformation, Switching, and Vanishment. The only form of Transfiguration exceeds Conjuration in difficulty is Human Transfiguration.
Nature
Since Conjuration is an advanced form of Transfiguration, most are N.E.W.T.-level, taught to sixth years and above at Hogwarts School of Witchcraft and Wizardry,[1] although some conjurations are simpler and are taught to younger students. Some conjurations taught are the Water-Making Spell (Aguamenti) and the Bird-Conjuring Charm (Avis). There are limits as to what can be conjured, however; according to Gamp's Law of Elemental Transfiguration, food cannot be conjured. Food can be summoned and transfigured but, never conjured.
According to The Book of Spells by Miranda Goshawk, "for reasons that are still not fully understood ... two categories of creature are easier to conjure from nothing than any other: birds and snakes." The spell to conjure birds is called the Bird-Conjuring Charm, which suggests that Serpensortia might be called the Snake-Conjuring Charm.
Dangers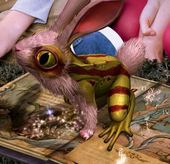 Many things can go wrong when attempting to conjure something from nothing, especially in the case of living creatures. If Conjuration is not performed exactly right or if the caster is simply messing around with Conjuring Spells, mistakes such as frog-rabbit hybrids can occur. The hybrids in question can be explainable by the magical law Principle of Artificianimate Quasi-Dominance. Things such as severed heads and indeterminate stumps can also occur, when the conjuration isn't exactly right, as well.
Miranda Goshawk, has written entries in the Standard Book of Spells series about the dangers of poor conjuration.
Known instances of Conjuration
[ [1994–1995 school year]]
Caster(s)
Date
Notes
Antonin Dolohov
1 August, 1997
During the Luchino Caffe Duel, Dolohov conjured ropes which bound Ron Weasley, possibly by use of the Incarcerous Spell.
Hermione Granger
31 July, 1997
Hermione conjured purple and gold streamers to decorate Harry Potter's seventeenth birthday party.
August, 1997
While interrogating Mundungus, Harry Potter accidentally set his eyebrows on fire. Hermione Granger conjured water to put the fire out by use of the Aguamenti Charm.
2 September, 1997
Hermione conjured a duplicate of Salazar Slytherin's Locket by use of the Geminio curse.
1997-1998
Hermione conjured Bluebell flames in order to keep warm and to cook with.
24 December, 1997

When visiting the graves of Lily and James Potter at the Godric's Hollow graveyard, Hermione non-verbally conjured a wreath of Christmas roses to place on them.
2 May, 1998
Hermione conjured a crystal flask to hold Severus Snape's memory
Harry Potter

During the Battle of Hogwarts, Harry tried to douse Vincent Crabbe's Fiendfyre curse with the Aguamenti Charm, to ill effect.
Known Conjuration spells
Known practitioners
Behind the scenes
J.K. Rowling has said that items conjured from thin air tend not to last long.[11]
Appearances
See also
Notes and references