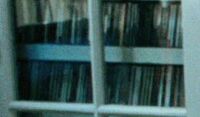 Compact disc (abbreviated CD) is a digital optical disc data storage format commercially introduced in 1982.[1] It is used primarily for audio storage, such as music albums and audiobooks, but is also used for video and software.[1]
In the summer of 1995, the Daily Express promoted an eight-disc set of instructional CDs, which promised to teach Spanish in one week with "no books" and "no writing."[2] The newspaper included a voucher in one issue that readers could use to pick up a free copy of Part Four of the set.[2] It also offered the complete series by post, which was valued at £70.[2]
Record Shop on Charing Cross Road in London bought used CDs, as well as used 45s, 8-tracks, and cassettes.[3]
The Granger family had built up a moderate collection of CDs by the summer of 1997.[4]
Appearances
Notes and references