Cobra
Species information
Skin colour

depends on kind of cobra

Related to
Distinction(s)

Flares it neck into a hood when threatened

Status

Extant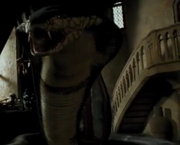 A cobra is a venomous snake, that when disturbed rear up and spread their neck in a hood in a characteristic threat display. In the 1992–1993 school year in the Duelling Club, Draco Malfoy used the Snake Summons Spell against Harry Potter and conjured a cobra.[1] Padma Patil's boggart manifested one of these snakes. [2]
Behind the scenes
Appearances
Notes and references