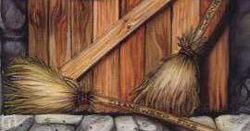 The Cleansweep Broom Company was a broomstick company founded by Bob, Bill, and Barnaby Ollerton in 1926. The company was the first to develop brooms specially for broom sports, and were the first company to begin mass-producing broomsticks. They released the Cleansweep One in 1926, and it was a runway success. The Cleansweep Two was released in 1934, and the Cleansweep Three in 1937. Several more models were released, the latest being the Cleansweep Eleven. During their early years, the company had a fierce rivalry with the Comet Trading Company.[1]
Appearances
Edit
Notes and references
Edit
Ad blocker interference detected!
Wikia is a free-to-use site that makes money from advertising. We have a modified experience for viewers using ad blockers

Wikia is not accessible if you've made further modifications. Remove the custom ad blocker rule(s) and the page will load as expected.