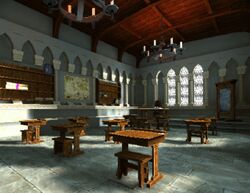 A classroom is a room in which a class of students is taught. In Hogwarts School of Witchcraft and Wizardry, several subjects have lessons take place in varying classrooms across the castle.
List of known classrooms
Greenhouses
Dungeons
Ground-floor
First-floor
Second-floor
Third-floor
Fourth-floor
Fifth-floor
Sixth-floor
Seventh-floor
Higher floors
Unknown floor
North Tower
South Tower
Notes and references
Ad blocker interference detected!
Wikia is a free-to-use site that makes money from advertising. We have a modified experience for viewers using ad blockers

Wikia is not accessible if you've made further modifications. Remove the custom ad blocker rule(s) and the page will load as expected.