Tom Riddle: "Stand aside, Hagrid!"
Rubeus Hagrid: "No!"
Tom Riddle: "Cistem aperio!"
— Riddle's use of the spell in 1943
Cistem Aperio is the incantation of a charm that is used to blast open a trunk, chest, box or crate with a burst of white light[1].
Being more specific than other opening spells in that it works only on trunks, chests, boxes or crates, may increase the spell's potency against a warded target of the appropriate kind[1].
History
Tom Riddle used this spell to blast open the chest in which Aragog, the pet-acromantula of Rubeus Hagrid, lived in during its time at Hogwarts Castle[1].
Etymology
Aperio is Latin for open, uncover, lay bare, reveal, or make clear. Cistem is a corruption of cistam, a form of the Latin word for 'box' or 'basket'.
Behind the scenes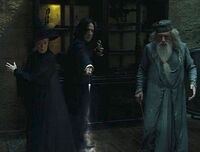 Appearances
Notes and references