Christopher Wilson
is a
British
actor who played a
Muggle
in the
film adaptation
of
Harry Potter and the Order of the Phoenix
.
[1]
Chris Wilson was stand in for Uncle Vernon (Richard Griffiths) on the Harry Potter Films.
Chris Wilson also played Dometrius Prod for a photograph for The Daily Profit.
He played A Banker On Fantastic Beasts, see photos below.
He was also a stand in for Barker on Fantastic Beasts.
Notes and references
https://www.starnow.co.uk/christopherw33618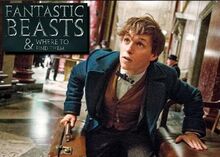 Chris Wilson on IMDB
http://www.imdb.com/name/nm2711324/