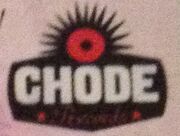 Chode Records was a Muggle record label. Among their catalogue of releases were the Love Celebration series and Locked Out of the House Classics.[1]
Behind the scenes
The company's name and logo are a crude anatomical joke ("chode"/"choad" being a mildly vulgar slang term for the perineum).
Appearances
Notes and references
Ad blocker interference detected!
Wikia is a free-to-use site that makes money from advertising. We have a modified experience for viewers using ad blockers

Wikia is not accessible if you've made further modifications. Remove the custom ad blocker rule(s) and the page will load as expected.