"Considered by many to be the greatest wizard of modern times, Dumbledore is particularly famous for his defeat of the Dark wizard Grindelwald in 1945, for the discovery of the twelve uses of Dragon's blood, and his work on alchemy with his partner, Nicolas Flamel. Professor Dumbledore enjoys chamber music and tenpin bowling."
—Albus Dumbledore's Chocolate Frog Card
Chocolate Frog Cards (also known as Famous Wizard / Witches Cards) are trading cards that contain the pictures and information on many different wizards and witches on them. The Cards are obtained by buying Chocolate Frogs. Each pack contains a random card inserted into the packet.
Overview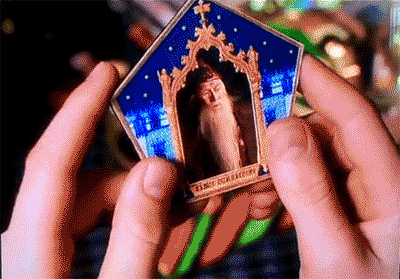 Students at Hogwarts collect and trade the cards. Hannah Abbott and Ernie Macmillan were swapping cards in the Great Hall. Harry, Ginny, and Neville were trading them on the Hogwarts Express. Notices about who wants which card even appear on the Gryffindor notice-board, in the common room. There are over 101 known cards total.
History
It is unknown when the idea for Chocolate Frog cards was conceived, or who was the first wizard ever to be put on one.
When Albus Dumbledore was being discredited by the Ministry of Magic, he was removed from the Wizengamot and from the International Confederation of Wizards. He told Bill Weasley that he didn't care what they did to him, as long as they didn't take him off Chocolate Frog cards.
List of known wizards and witches on Chocolate Frog Cards
Discovered Gillyweed. Bertie Bott (1935-present)
Invenor of the Golden Sniget.
Chaser for Puddlemore United Quidditch Team.
Famously fell in love with a man named Loch Lomond but her parents forbade her to marry him. Eventually she transfigured herself into a haddock and was never seen again.
Chocolate frog cards on Pottermore
Behind the scenes
The appearance of Chocolate Frog Cards varies throughout the series. In the films, they are pentagonal and always dark blue or purple, a design also used in most other adaptations, such as the video games and most real-life versions of the cards. On Pottermore, however, the cards are shaped more like traditional trading cards, and each unique card is a different colour.
The first Chocolate Frog card seen in the series was Albus Dumbledore's. Harry Potter received it on his first trip to Hogwarts, and it later provided a vital clue as to the identity of Nicolas Flamel and the truth about the Philosopher's Stone. Dumbledore's card also provides a vital clue in the seventh book, when Grindelwald, who was first mentioned in the first book, and his relationship to Dumbledore is explained in detail.
During his first trip to Hogwarts, Ron Weasley tells Harry Potter the only cards he does not have are Cornelius Agrippa's and Ptolemy's.
101 different cards can be collected and examined over the course of the Harry Potter and the Chamber of Secrets video game for Gamecube/PS2/Xbox, through purchase from Fred and George with Bertie Bott's beans; trading doubles with other students; discovering them in chests hidden throughout Hogwarts and other places in the wizarding world, some of which need to be unlocked with varying spells; receiving them as rewards for finding and returning lost property; and winning them in games and races with other students.
J.K. Rowling has stated that as both Albus Dumbledore and Ronald Weasley are on Chocolate frog cards, they both consider it their greatest achievement.

J. K. Rowling wrote all 101 Famous Witches And Wizards Cards herself for EA Games, and as such, they can be considered canon and shed a significant amount of light on the history of the wizarding world.[1] Having said that, a few elements remain contradictory, notably Adalbert Waffling's listed 1899 birthdate, which was overridden in Harry Potter and the Deathly Hallows by his already-established notoriety and correspondence with the student-age Dumbledore in the 1890s.
Although modern wizards such as Bertie Bott, Albus Dumbledore and Harry Potter appear on cards, as do historical dark wizards such as Herpo the Foul and Merwyn the Malicious, modern dark wizards Gellert Grindelwald and Voldemort do not.
In Pottermore, users can collect cards through out each chapter.
In the video games, certain combinations of cards are required to cast spells such as the Tempest Jinx.
In the video games, these are often stored in various Folios such as the Folio Magi or the Folio Triplicus. The Folio Brevis was also intended as one such Folio, but was cut.
Appearances
See also
Notes and references
↑

www.hp-lexicon.org/about/sources/source_cards.html