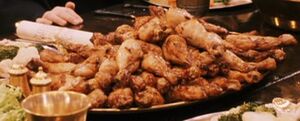 Chicken was a type of meat taken from the bird of the same name.[1] It was a common ingredient in both wizarding and Muggle cuisine.
Students at Hogwarts School of Witchcraft and Wizardry were especially fond of chicken, enjoying dishes such as chicken fricassee, chicken noodle soup, chicken salad and chicken pot pie.[2] Chicken legs were also served during the school's Welcoming Feast in 1991.[3]
In 1995, Harry Potter, Ronald Weasley and Hermione Granger sent Sirius Black chicken to supplement his diet when he was hiding out in the mountains near Hogsmeade.[4]
Notes and references