"Is this all real? Or has this been happening inside my head?"

The subject of this article is of a real-life person, place, group, company, product, or creative work that has been mentioned "in-universe" in a canon source. The Harry Potter Wiki is written from the perspective that all information presented in canon is true (e.g., Hogwarts really exists), and, as such, details contained in this article may differ from real world facts.
"Harry, your eyesight really is awful."

The title of this article is transcribed from an image. Due to several factors, including poor image quality and difficult-to-read fonts/handwriting, it may have been transcribed incorrectly. If you have a higher quality version of the source image, or a more accurate reading of the text, please visit this article's talk page.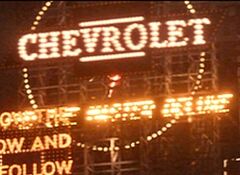 Chevrolet was an American company that manufactured automobiles.[1]
The Master Deluxe was a model made by this company in the early 20th century.[2] It was promoted with a large neon billboard on a rooftop in Times Square in 1926.[2]
Behind the scenes
Appearances
Notes and references