"There are plenty of eye-witness accounts. Just because you're so narrow-minded you need to have everything shoved under your nose before you–"

This article contains a list of appearances, but currently has few or no notes and references. Please help the Harry Potter Wiki by adding notes and/or references to bring this article to a higher standard of quality.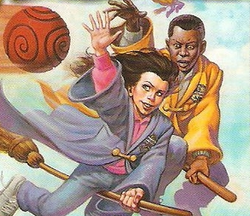 Checking, in Quidditch, refers to a defensive technique used in order to gain possession of the Quaffle. It consists of intercepting the ball just when the opposing Chasers are about to make a pass, effectively preventing the pass.
Appearances