"Hand out your leaflets! I'll know if you dump 'em. Tell me if you see anything suspicious."
—Chastity's zeal regarding anti-witchcraft
Chastity Barebone (d. 7 December, 1926[2]) was an American girl who lived during the 20th century. She was the adopted daughter of Mary Lou Barebone. Mary Lou was the leader of the New Salem Philanthropic Society, a No-Maj anti-witchcraft group. Chastity was the middle child of three adopted siblings. Her other siblings were Credence and Modesty Barebone.[3]
Biography
At some point in time Chastity was adopted by Mary Lou Barebone. Mary Lou was the leader of the New Salem Philanthropic Society, a No-Maj anti-witchcraft group. It is not known how long she was with the Barebone family.
Chastity dutifully abided by her mother's strict rules, unlike her two siblings, Credence and Modesty. She was an active member of the New Salem Philanthropic Society, sharing her mother's zeal for the cause of eradicating magic and its practioners.[4]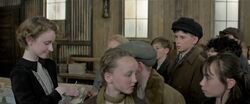 One of Chastity's main responsibilities was dishing out gruel to many children who came to the NSPS church looking for handouts. She was in charge of handing out pamphlets and leaflets to children at the Second Salem Church, who would distribute them in exchange for food and water.
On 6 December 1926, Langdon Shaw, a believer in magic, brought Chastity and his family into his father Henry Shaw Senior's office. Mary Lou was interested in garnishing the support and influence of his newspaper company and his elder son's re-election platform. But Henry Shaw refused and asked them to leave. When returning a dropped leaflet, Henry Shaw Junior, the senator, called her older brother Credence a freak. Chastity left the office with her family, understanding that the Shaw family was not going to support the Second Salemers.
Death
"The Dark force flies through the church, upending the table and destroying everything in sight...The place is destroyed — moonlight filters through gaps in the roof, and Chastity lies dead amid debris from the attack."
—Chastity's lifeless body after Credence's Obscurus attacks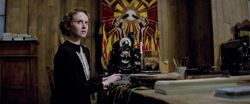 Chastity died on the night of 7 December, 1926 as a result of fatal injuries sustained when the Second Salem Church was destroyed by Credence's Obscurus. The obscurus largely destroyed the church, killing Chastity in the process after it had attacked their mother after she had tried to punish Credence after catching him with a toy wand that he had found under Modesty's bed.[2]
Personality and traits
Chastity usually followed the example of her adoptive mother, Mary Lou. She possessed a zealous anti-witchcraft mindset, much as her mother did and unlike Credence and Modesty. Chastity took her role within the New Salem Philanthropic Society very seriously and would remind the children that handed out the church's leaflets to report to her if they saw any suspicious activity that could possibly register as witchcraft.
Behind the scenes
"I thought Chastity was very suppressed and lonely. [But] there were little things in the script, like 'She blushed' or 'She looked curiously', so I was like, 'Oh she's a bit rebellious.' But it's all battened down."
—Jenn Murray on playing Chastity
Appearances
Notes and references