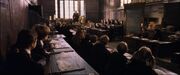 This building was located next to the Central Tower. In this building, the Charms Classroom is found and possibly Filius Flitwick's office. In the central wall of the building there is a large window through which the Greenhouses, the lake and the north Hogwarts' grounds can be seen.
Appearances
Ad blocker interference detected!
Wikia is a free-to-use site that makes money from advertising. We have a modified experience for viewers using ad blockers

Wikia is not accessible if you've made further modifications. Remove the custom ad blocker rule(s) and the page will load as expected.