Warning!

At least some content in this article is derived from information featured in Harry Potter: Hogwarts Mystery. Spoilers will be present within the article.
"I see Charms as a slightly lighter subject than Transfiguration which is very hard work. With Charms there would be a little more leeway for a little more personal creativity— "
—J.K.Rowling on the nature of charms work
Charms is a core class and subject taught at Hogwarts School of Witchcraft and Wizardry and Ilvermorny School of Witchcraft and Wizardry. Unsurprisingly, it specialises in the teaching of charms. Even though mastering the science of charmwork is clearly essential to performing the greater part of magic, charmwork is seen as a "softer option" by some such as Augusta Longbottom who, incidentally, failed her Charms O.W.L.[1]
Professor Filius Flitwick taught Charms for many years. It was rumoured that his expertise with charmwork made him a duelling champion.
Class information
"They then spent over an hour revising Summoning Charms, which according to Professor Flitwick were bound to come up in their OWL, and he rounded off the lesson by setting them their largest ever amount of Charms homework."
—A fifth year Charms lesson, O.W.L. revision
Charms is a required subject for all students in their first five years at Hogwarts School of Witchcraft and Wizardry. The spells learned in Charms class are taken from textbooks. Students are taught specific wand movements and proper pronunciation. Often students partner up in class to experiment on one another. Charms was Hermione Granger's favourite subject, until she started Arithmancy as an elective in 1993.[2]
In a student's fifth year they take the Ordinary Wizarding Level examinations. This exam contains a written portion and a practical portion. The written portion is made up of questions concerning the theory of charms and the practical is where students are judged upon the charms they can perform. Their O.W.L. scores decide what courses they'll be taking in their final years at Hogwarts. Only students who achieve a high O.W.L. score of either 'Outstanding' or 'Exceeds Expectations' may advance to N.E.W.T.-level.
Professor Flitwick was one of the kinder teachers at Hogwarts. Harry Potter, Ron Weasley, and Hermione Granger often enjoyed a "nice chat" in this class. This was the class where they used the Muffliato Charm as well. Harry was on at least fairly good terms with Professor Flitwick, as the professor spoke with Harry about the "perfect" Summoning Charm he used in the Triwizard Tournament.[3] Sometimes, Professor Flitwick, after trying and failing to get the class to concentrate, would allow the class to play games. One of these instances was just before the Yule Ball.
Location and time
Charms classes are held in Class 99 in the South Tower and Classroom 2E along the Charms Corridor on the third floor, near the Third-floor corridor. Classroom 2E has three rows of desks, all facing the teacher's table, behind which sits a large upholstered chair with a high back. Two blackboards flank the teacher's table, and behind them is a small shelf with books and other objects, beneath a pair of windows.[4]
Location times
Year
Day
Period
First
Tuesday
first
Thursday
Second
Monday
unknown
Thursday
second/third
Friday
morning
Third
second
Fourth
Wednesday
morning
Friday
third
Fifth
Thursday
second/third
Sixth
unknown
unknown
Seventh
Monday
morning
Curriculum
First year
Second year
Third year
Fourth year
"They were supposed to be practising the opposite of the Summoning Charm today — the Banishing Charm."
—The Charms class on the Banishing Charm
Fifth year
Sixth year
"Hermione was the only one who had managed to turn vinegar into wine; her glass flask was full of deep crimson liquid."
—A N.E.W.T.-level charms lesson
Known professors
Required textbooks
Grades
The Charms O.W.L. contains both a written section and a practical where the students are judged on the charms they can perform.
Written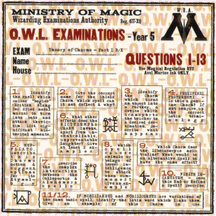 "a) Give the incantation and
b) describe the wand movement required to make objects fly."
—Question on the Charms O.W.L.
Practical
Known O.W.L.s
Media
Behind the scenes
In LEGO Harry Potter: Years 5-7, Lavender Brown, Draco Malfoy, Vincent Crabbe, and Gregory Goyle all appear to have passed their O.W.L.s, despite the fact that they weren't mentioned to have done so in the books.
In the German translation, "charm" is translated as "Zauber". The plural form is also "Zauber". The subject, however, is always called "Zauberkunst", which literally means "charm-art".
Charms is Warwick Davis's favourite subject.[12]
In Hogwarts Mystery, the Knockback jinx and the Full Body Bind Curse are covered in Charms class. This seems unusual, as defensive spells have not been shown as being part of the Charms curiculum, but Defence against the Dark Arts instead. Though jinxes, hexes and curses can be grouped together in a category called Dark charms. Although it could be, given the fact that there was a different Defence against the Dark Arts teacher each year before Voldemort's death, that it was simply neccessary that Filius Flitwick temporarily included defensive spells in the Charms curriculum, as not all of those hired teachers were very competent, engaging, informative and/or talented.
Appearances
Notes and references
↑

Harry Potter: Hogwarts Mystery

↑

Hogwarts Mystery

↑ Harry Potter and the Prisoner of Azkaban, Chapter 8 (Flight of the Fat Lady)
↑

Hogwarts Mystery - year 3

↑

Hogwarts Mystery - year 3

↑

It's noted in the Half-Blood Prince that Riddle achieved high marks on every exam he took.