"Are you a wizard or not?"

The title of this article is conjectural. Although it is based on canonical information, the actual name is a conjecture and may be supplanted at any time by additional information released from canonical sources. If this occurs, please move this page to the appropriate title.
Professor McGonagall: "Harry Potter! Thank goodness you`re here! There`s been an accident; a candle has been changed into a rabbit."
Harry: "That certainly sounds like an accident."
Professor McGonagall: "It was a lit candle… and it escaped! I`m afraid it might set fires. I need someone to catch it. And I`m assigning you."
Harry: "How will I know the rabbit when I see it?"
Professor McGonagall: "It`s purple. That`s unusual, even at Hogwarts."
— Professor McGonagall conversing with Harry Potter in 1991
This spell was used by an unnamed witch or wizard in the transfiguration course at Hogwarts School of Witchcraft and Wizardry. It mutated a lit candle into a large purple rabbit, which Professor McGonagall sent first year Harry Potter to retrieve in exchange for a new spell[1].
Behind the scenes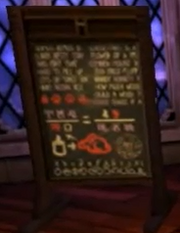 In the image to the right, one can see the transfiguration alphabet, underneath a picture of a rabbit; this may be a reference to this spell.
Appearances
Notes and references