"There are plenty of eye-witness accounts. Just because you're so narrow-minded you need to have everything shoved under your nose before you–"

This article contains a list of appearances, but currently has few or no notes and references. Please help the Harry Potter Wiki by adding notes and/or references to bring this article to a higher standard of quality.
This bust of Rowena Ravenclaw was created by Xenophilius Lovegood who was trying to recreate the magical properties of her diadem. Upon the bust was that which was supposed to be the diadem of Rowena that Xenophilius was trying to recreate, using Wrackspurt siphons, billywig propellers, and a dirigible plum.
It was partially destroyed when the Death Eaters attacked the Lovegood House.
Behind the scenes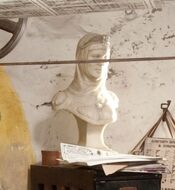 Appearances