This bust of Rowena Ravenclaw was created by Xenophilius Lovegood who was trying to recreate the magical properties of her diadem. Upon the bust was that which was supposed to be the diadem of Rowena that Xenophilius was trying to recreate, using Wrackspurt siphons, billywig propellers, and a dirigible plum.
It was partially destroyed when the Death Eaters attacked the Lovegood House.
Behind the scenes
Edit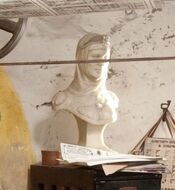 Appearances
Edit
Ad blocker interference detected!
Wikia is a free-to-use site that makes money from advertising. We have a modified experience for viewers using ad blockers

Wikia is not accessible if you've made further modifications. Remove the custom ad blocker rule(s) and the page will load as expected.