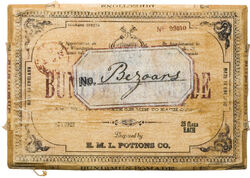 Bundimun Pomade was a potion made in England by E. M. L. Potions Co.,[1] by appointment to the Wizengamot since 1552,[2] as well as to an alchemical authority from an unknown date.[1] It was presumably a hair pomade containing Bundimun secretion. However, it is unknown why a product intended to be applied to the scalp would contain such a highly corrosive ingredient, although it might have been diluted enough to be safe and effective against dandruff.
Horace Slughorn stored his bezoars in an old box of Bundimun Pomade.[1]
Appearances
Notes and references
Ad blocker interference detected!
Wikia is a free-to-use site that makes money from advertising. We have a modified experience for viewers using ad blockers

Wikia is not accessible if you've made further modifications. Remove the custom ad blocker rule(s) and the page will load as expected.