Bubble-Head Charm
Type
Effect

Creates bubble protecting the head
The Bubble-Head Charm (incantation unknown) is the most effective spell for breathing underwater or in any environment where fresh air is at a premium, allowing one a supply of oxygen. It causes a protective bubble to form about the caster's head, like a helmet; this bubble may allow for underwater exploration or to avoid nasty smells, although wizards with bad breath have reported problems after the first thirty minutes[1].
Known uses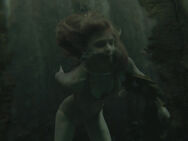 Behind the scenes
A similar spell called Ebublio is seen in the Harry Potter video games.
Appearances
Notes and references