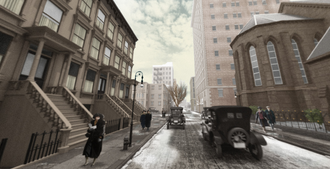 Brownstone was a type of brown sandstone that was once a popular building material.[1] The term was also used to refer to houses made of this stone (e.g., "a brownstone").[1]
In 1926, Tina and Queenie Goldstein were sharing an apartment in a brownstone at 679 West 24th Street in New York, which they rented from Mrs Esposito.[2][3][4]
Notes and references
Ad blocker interference detected!
Wikia is a free-to-use site that makes money from advertising. We have a modified experience for viewers using ad blockers

Wikia is not accessible if you've made further modifications. Remove the custom ad blocker rule(s) and the page will load as expected.