"We must've been through hundreds of books already and we can't find him anywhere —"

This article is lacking a section listing all of its known appearances in canon. Please help the Harry Potter Wiki by adding such a section, so that it conforms with our layout guide.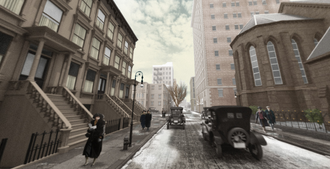 Brownstone was a type of brown sandstone that was once a popular building material.[1] The term was also used to refer to houses made of this stone (e.g., "a brownstone").[1]
In 1926, Tina and Queenie Goldstein were sharing an apartment in a brownstone at 679 West 24th Street in New York, which they rented from Mrs Esposito.[2][3][4]
Notes and references