"We must've been through hundreds of books already and we can't find him anywhere —"

This article is lacking a section listing all of its known appearances in canon. Please help the Harry Potter Wiki by adding such a section, so that it conforms with our layout guide.
"Is this all real? Or has this been happening inside my head?"

The subject of this article is of a real-life person, place, group, company, product, or creative work that has been mentioned "in-universe" in a canon source. The Harry Potter Wiki is written from the perspective that all information presented in canon is true (e.g., Hogwarts really exists), and, as such, details contained in this article may differ from real world facts.
Great Britain is a large European island, to the northwest of the main continent. The island is administrated by the Prime Minister of the United Kingdom, which consists of England, Scotland, Wales, and Northern Ireland in the Muggle world, and by the Minister for Magic of the Ministry of Magic in the wizarding world.
Magical Education
Many British wizards and witches attend Hogwarts School of Witchcraft and Wizardry in Scotland.
Magical creatures and plants
England
Scotland
Wales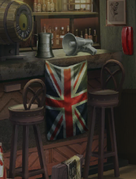 Magical games and sports
England
Scotland
Wales
Northern Ireland
Food and beverages
Known locations
Behind the scenes
Exernal links