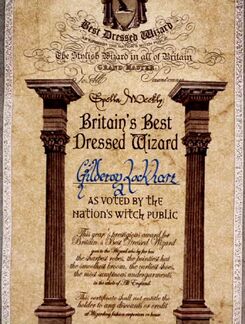 Britain's Best Dressed Wizard Award is an award. It is given out by Spella Weekly, but voted by the Nation's Witch Public. Gilderoy Lockhart won this award. The award is given out with a certificate. The award goes to the wizard who has the sharpest robes, the pointiest hat, the smoothest broom, the curliest shoes and the most sumptuous undergarments in the whole of Great Britain.
Appearances
Edit
Ad blocker interference detected!
Wikia is a free-to-use site that makes money from advertising. We have a modified experience for viewers using ad blockers

Wikia is not accessible if you've made further modifications. Remove the custom ad blocker rule(s) and the page will load as expected.