Boa constrictor (binomial name Boa constrictor) is a large, heavy-bodied species of snake. It is a member of the family Boidae found in North, Central, and South America, as well as some islands in the Caribbean. A staple of private collections and public displays, its colour pattern is highly variable yet distinctive.[1]
On 23 June, 1991, Parselmouth Harry Potter spoke to a boa constrictor from Brazil. He unknowingly used underage magic by making the pen's glass vanish, freeing the boa. The boa then told him "Brazil, here I come. Thanks, amigo".[2]
Behind the scenes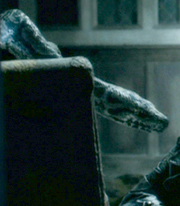 In the film adaptation of Harry Potter and the Philosopher's Stone, the boa constrictor from Brazil is changed to a python from Burma, and so is the mention of it in the film adaption of Harry Potter and the Chamber of Secrets.
In the film, the snake blinks multiple times at Harry, despite the fact that snakes have no eyelids.
Also in the film, after the boa is freed the glass reappears trapping Dudley on the inside of the pen.
In the film adaptions of Harry Potter and the Goblet of Fire, Harry Potter and the Order of the Phoenix and Harry Potter and the Half-Blood Prince, in flashback, Nagini, Voldemort's pet snake, is portrayed as a Dumeril's Ground Boa which also goes by the name boa constrictor. A Reticulated Python portrayal replaced this in the last two films.
Appearances
Notes and references