Blythe Parkin was an English witch who played as Seeker on the English National Quidditch team. She may be a relative to Walter Parkin and his children.
Behind the Scenes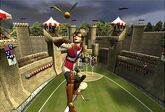 In the game, sometimes when she's caught the Snitch, she'll either stand on her broom or kiss it
She may be a descendant of Walter Parkin, ehose children founded the Wigtown Wanderers Quidditch team in the 15th century.
Etymology
The name "Blythe" comes from a surname which meant "cheerful" in Old English.
Appearances