"She whipped out her wand, waved it, muttered something, and sent a jet of the same bluebell flames she had used on Snape at the plant. In a matter of seconds, the two boys felt it loosening its grip as it cringed away from the light and warmth."
—Hermione using the spell against the Devil's Snare
Bluebell Flames, also known as Cold Fire or Blue Flames,[2] (incantation unknown) is a magical fire that is produced by a charm of unknown Incantation, flowing from the caster's Wand in a stream or jet, which then condenses into a body of fire on a nearby object, similar to Incendio.
Effects
The flames produced are described as being bright blue, waterproof, and radiating heat only to objects held directly above it. The fire can also be touched, penetrated and held without it burning the holder, though it is known to burn materials such as clothing and plants. As such, it may be safely carried in small objects, e.g. a jar, without the object being damaged. These unique flames can also be directed to a desired location by its caster, and return to its original position.
Known uses
Known practitioners
Behind the scenes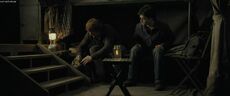 Appearances
Notes and references